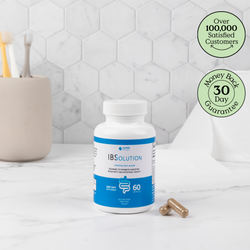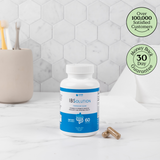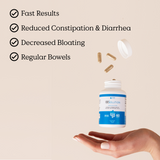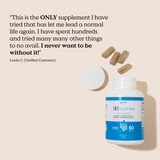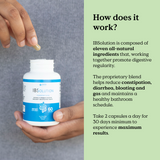 IBSolution
Break Up With Your Pooping Problem
An all-natural powerful formula designed to eliminate your pooping problems & reduce your everyday toilet trips.
Regular Bowels

Fast Results

Decreased Bloating

Constipation & Diarrhea Relief
Details
All you need is 1 capsule in the morning and 1 capsule at night with a glass of water.
IBSolution may be for you if…
You have irregular bowel movements.
You're frequently constipated.
You constantly have diarrhea.
You suffer from uncomfortable bloating.
You always have stomach pains and discomfort.
Frequently Asked Questions
While most customers report seeing positive results within the first few days, occasionally there's an adjustment period as your intestinal tract balances. We've heard many stories over the past several years of customers who had a rocky start and ended up life long subscribers. If you start off uneventful or even rocky, please stay the course.
The magic is in the blend! Our all natural supplement combines exciting digestive aids and super-foods to balance the flora within the digestive tract and help with the abnormal intestinal spasms that go along with digestive issues. The holistic herbs and plant-based ingredients aid in digestion, detoxify the body, remedy and lubricate the intestines, productively eliminate waste and ease gut discomfort. We believe this proprietary blend is an ideal combination to provide support and comfort for digestion and gut function.
Either is fine, although we suggest you take one IBSolution capsule when you wake up with a large glass of water and then ideally wait 25-30 minutes (if possible) before having your breakfast. This allows the ingredients time to release from the capsule before you add food to the equation. Take a second capsule around dinner time either with or without food. For best results take 2 pills daily on a continual basis. Upon taking IBSolution for 1-2 weeks (if not 1-2 days) you will likely notice an improvement in digestive issues.
IBSolution may be for you if....
You have irritable bowels.
You're frequently constipated.
You constantly have diarrhea.
You suffer from uncomfortable bloating.
You always have stomach pains and discomfort.
And the list goes on.
What many people don't know is that these symptoms are commonly linked to poor gut health. Making one simple change to gut health routine and flush your body of harmful waste can put you on the path to better wellness and a better life!
In our experience, we find the low FODMAP approach to be highly restrictive and hard to maintain. IBSolution sets out to give people back their freedom by eliminating the discomfort that comes with irritable bowels, without having to say goodbye to all their favorite foods and dining out. While most of the ingredients in IBSolution are not high FODMAP, a key prebiotic ingredient that we use (inulin) is typically not included in the FODMAP approach. However, many studies indicate that inulin is highly beneficial for gut health, which has played a significant role in IBSolution's effectiveness.
As a dietary supplement, take two(2) capsules daily. For best results, take one(1) capsule in the morning and one(1) capsule in the evening. Do not exceed two(2) capsules per day.
Did you know that there's a direct connection between our gut and mental health? There are several pathways connecting our brains to our guts – and this connection goes both ways. First, the food we eat and our ability to digest can impact how we think, feel, and move on a daily basis. For optimal mind and gut health, give your body what it needs with our Gut Health Bundle. At 20% OFF, this power duo includes IBSolution and our Premium Probiotic.
If you have issues swallowing capsules, you can easily open the capsule and pour the contents into juice or apple sauce.
Meet our ingredients.
Psyllium

A soluble fiber for anti-gas and anti-bloating.

Acai

Antioxidents, omega fatty acids, and fiber.

Slippery Elm

Coats and soothes digestive tract.

Chlorella

Energizing superfood that detoxify and cleanse.

Walnut Hulls

Antidiarrheal, antifungal, and antiviral.

Aloe

Cleanses, detoxes, and heals intestinal tracts.

Ginger

Improves digestions, anti-inflammatory.

Inulin

Prebiotic that becomes healthy micro flora.

Hyssop Leaf

Anti-flatulence and boosts absorption.

Papaya

Contains papain, an enzyme that metabolizes protein.

Lycopene

A powerful, all-natural antioxidant.