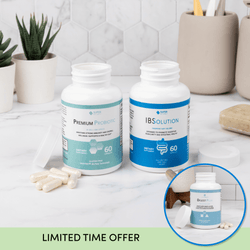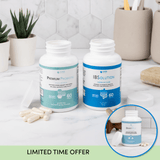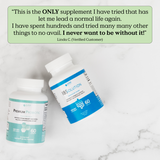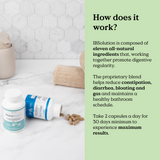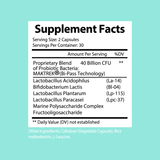 Gut Health Black Friday Bundle
Save 20% + Free Gift (Worth $22)
Our best-selling starter kit helps promote regular bowels and eliminates constipation, diarrhea, bloating and gas quickly.
Regular Bowels

Fast Results

Decreased Bloating

Constipation & Diarrhea Relief
SUPPORTS HEALTHY DIGESTIVE FUNCTION: No more discomfort! This combo helps by restoring the gut's natural balance. Probiotics and IBSolution's ingredients are designed to help your bathroom trips a lot easier.

PROBIOTICS MADE WITH MAKTREK BIPASS TECHNOLOGY: The technology that supports superior absorption of the "good" probiotics to your gut. Contains 40 billion CFUs for optimal effectiveness and wellness.

SUPPORTS GUT HEALTH: Our gut health bundle helps support your digestive tract. Imbalanced gut health can stem from stress, diet or ongoing digestive issues. The IBSolution and Premium Probiotics Gut Health Combo is designed and paired together to promote digestive regularity.

ALL NATURAL PROPRIETARY BLEND: IBSolution includes walnut hulls, acai, slippery elm, papaya, aloe, ginger, psyllium, chlorella, lycopene, hyssop leaf and more. Paired with our probiotics to get the maximum results.

A HIGH QUALITY AND AFFORDABLE SOLUTION: Our products are affordable, high-quality, and proudly made in the USA.

Frequently Asked Questions
IBSolution is THE solution for regular bowels. Stop worrying about finding the nearest toilet or not going for days. We're on a mission to make going to the bathroom simple and stress free again. This all-natural supplement balances your gut and eliminates discomfort so you can start pooping the way nature intended.
Irregular poops, constipation, bloating, and diarrhea don't discriminate. They can happen at any age. You might start by cutting out foods to ease the pain or opt to stay home because your bathroom habits are so unpredictable. But let's get real – how long can you live like this? You can get your life back.
All-natural supplement to support digestive health
Supports issues such as gas, bloating and abdominal pain
Formulated with digestive aids and naturally-occurring super-foods
4 out of 5 patients who try IBSolution report positive results and more regular digestion.
40 Billion CFUs for optimal effectiveness and wellness
Made with MAKTrek® Bipass Technology which provides more than 250 times better survival rate and absorption of the "good" probiotic bacteria.
The good bacteria found in probiotics help restore the gut's natural balance of good vs. bad bacteria.
Imbalanced gut bacteria can occur from illness, poor diet or antibiotics and can lead to issues with allergies, digestion, mental well-being, obesity and others.
Probiotics may support diarrhea and ease constipation. Regular use of probiotics help negate symptoms of digestive issues.
The Gut Health Bundle may be for you if....
You have irritable bowels.
You're frequently constipated.
You constantly have diarrhea.
You suffer from uncomfortable bloating.
You always have stomach pains and discomfort.
And the list goes on.
What many people don't know is that these symptoms are commonly linked to poor gut health. Making one simple change to gut health routine and flush your body of harmful waste can put you on the path to better wellness and a better life!
As a dietary supplement, take two(2) capsules of IBSolution and two (2) capsules of Premium Probiotic daily. For best results, take one (1) of each capsule in the morning and one (1) of each capsule in the evening. Do not exceed two (2) capsules of each per day.
You may take the capsules with or without food. We suggest you take the first dose when you wake up with a large glass of water and then ideally wait 25-30 minutes (if possible) before having your breakfast. This allows the ingredients time to release from the capsule before you add food to the equation. Take a second capsule around dinner time either with or without food. For best results take 2 pills daily on a continual basis. Upon taking IBSolution for 1-2 weeks (if not 1-2 days) you will likely notice an improvement in digestive issues.
Did you know that there's a direct connection between our gut and mental health? There are several pathways connecting our brains to our guts – and this connection goes both ways. First, the food we eat and our ability to digest can impact how we think, feel, and move on a daily basis. For optimal mind and gut health, give your body what it needs with this best selling bundle. At 20% OFF, this power duo includes IBSolution and our Premium Probiotic.
The magic is in the blend! Our all natural supplement combines exciting digestive aids and super-foods to balance the flora within the digestive tract and help with the abnormal intestinal spasms that go along with digestive issues. The holistic herbs and plant-based ingredients aid in digestion, detoxify the body, remedy and lubricate the intestines, productively eliminate waste and ease gut discomfort. We believe this proprietary blend is an ideal combination to provide support and comfort for digestion and gut function.
It contains 40 Billion CFUs for optimal effectiveness and wellness and is made with MAKTrek® Bipass Technology which provides more than 250 times better survival rate and absorption of the "good" probiotic bacteria.
The key to receiving the full probiotic benefits are to ensure that the supplement has active CFU/g's by the time it reaches your system. Many probiotics do not actually properly absorb into your digestive tract due to the fact that they are broken down by enzymes in the stomach or intestines.
MAKTREK By-pass Technology is a ground-breaking patented formula that improves absorption of probiotics within the body. This patented technology results in a capsule that is not broken down by digestive enzymes in the stomach or intestines.
For maximum effectiveness, MAK Trek Bypass process creates a protective layer around the capsule keeping the probiotics usable while it is in the stomach. Once the supplement is released from the stomach to the digestive tract the capsule is able to break down and release the probiotic into the body providing significant safeguards that ensure better survival of the living beneficial probiotic bacteria.
Premium Probiotic contains 4 main strains of probiotics for the ideal digestive balance:
Lactobacillus Acidophilus – Naturally found in the intestinal tract and helps in maintaining the intestinal flora numbers
Bifidobacterium Lactis – Stimulates the body's immune response
Lactobacillus Plantarum – Support the digestive tract
Lactobacillus Paracasei – Helps to boost energy levels
While most customers report seeing positive results within the first week or even first few days, occasionally there's an adjustment period as your intestinal tract balances. We've heard many stories over the past several years of customers who had a rocky start and ended up life long subscribers. If you start off uneventful or even rocky, please stay the course. It is best to take the entire first month of capsules in order to fully evaluate their effectiveness.
The capsules are approximately 1" long. If you have issues swallowing capsules, you can easily open the capsule and pour the contents into juice or apple sauce.