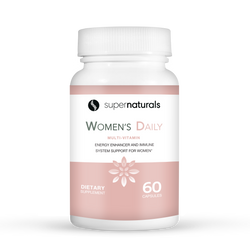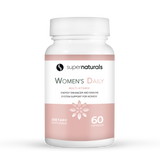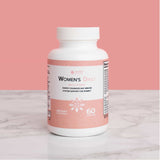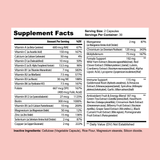 Women's Daily Multi-Vitamin
A complete blend of the essential vitamins for women.
No Fillers

Non-GMO

Made in the USA
Women's Daily Multi-Vitamin contains a complete blend of the essential vitamins and minerals necessary for optimal female health.
Includes immune system support to maintain well-being and fight illness.
Provides increased energy and mental clarity for the mind and body.
A special women's blend to provide a balance of antioxidants, herbs, vitamins, and minerals that have been specially formulated to support female body function.
Bridges common dietary gaps.

Frequently Asked Questions
Women's Daily Multivitamin provides the right amount of vitamins, minerals, antioxidants, and herbs for the unique needs of women, making it a top-quality women's multivitamin.
In today's fast-paced world, many women do not get the daily recommended allowance of vitamins, minerals and other nutrients. Super Naturals helps to bridge that nutrient gap by offering a women's multivitamin that includes necessary vitamins and minerals plus additional proprietary blends to fight free radicals, increase energy, improve female body function and provide sustainable energy throughout the day.
Immune System Blend – Helps your body stay healthy with improved immune system function.
Antioxidant and Energy Blend – Powerful fruit and berry antioxidants. Contains natural energizers from herbs and foods including Green Tea, Pomegranate Fruit, and other ingredients provide an all-natural energy and antioxidant boost
Female Support Blend – Including Wild Yam Isoflavones, Lycopene and more for a woman's unique needs.