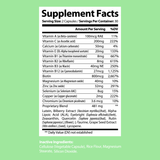 Eye Formula
Natural formula for optimal vision.
Vegan

Gluten Free

No Fillers

Non-GMO
A proprietary, natural blend of vitamins, minerals and antioxidants for improved vision and macular health.  
Supports increased clarity of vision, color perception, night vision, depth perception and reading clarity.  
In addition to vision benefits, Eye Formula is packed full of vitamins that boost health and overall well-being.
Support for vision and eye health related issues.

Frequently Asked Questions
Vitamin A, Vitamin C, Calcium, Vitamin E, Vitamin B1, Vitamin B2, Vitamin B3, Vitamin B12, Biotin, Magnesium, Zinc, Selenium, Copper, Chromium.
Proprietary Blend: Lutein, Bilberry Extract, Alpha Lipoic Acid, Eyebright, Zeaxanthin, Quercetin, Rutin, L-Taurine, Grape Seed Extract, Lycopene.
Inactive Ingredients: Cellulose, Rice Flour, Magnesium Stearate, Silicon Dioxide.